Space Heater Safety
Posted on February 2nd, 2015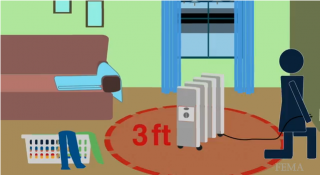 Space heaters are a great and efficient way to knock the chill out of a room, especially when it's too expensive to run or install central heat. While we may think we know all there is to know about using space heaters safely, statistics from the National Fire Protection Association tell a different story.
Each year space heaters cause:
More than 25,000 residential fires
More than 300 deaths
More than $550 million in property damage
In addition, an estimated 6,000 people receive hospital emergency room care for burn injuries associated with contacting the hot surfaces of room heaters, mostly in non-fire situations.
It's time for a refresher on these important safety tips:
Selecting a Space Heater
Only purchase newer model heaters that have all of the current safety features. Make sure the heater carries the Underwriter's Laboratory (UL) label.
Buy a unit with a tip-over safety switch, which automatically shuts off the heater if the unit is tipped over.
Choose a thermostatically controlled heater, because they avoid the energy waste of overheating a room.
Select a heater of the proper size for the room you wish to heat. Do not purchase oversized heaters. Most heaters come with a general sizing table.
You can visit www.cpsc.gov or www.SaferProducts.gov to see if your electric heater has been recalled.
Set-Up
Keep combustible material such as beds, sofas, curtains, papers, and clothes at least 3 feet from the front, sides, and rear of the heater. Last year, 24% of home heating fires were caused by space heaters being too close to flammable items.
Be sure the heater plug fits tightly into the wall outlet. If not, do not use the outlet to power the heater.
Never power the heater with an extension cord or power strip.
Insure that the heater is placed on a stable, level surface, and located where it will not be knocked over.
Never run the heater's cord under rugs or carpeting. This can damage the cord, causing it and nearby objects to burn.
Running the Space Heater
Never leave a heater running when you leave the room or while you sleep.
Keep children and pets away from heaters.
To prevent electrical shocks and electrocutions, always keep electric heaters away from water, and NEVER touch an electric heater if you are wet.
It's also imperative to have smoke alarms installed and to test them for proper operation.
For more information on safely using various types of heaters click here.

Lastly, SPREAD THE NEWS! Inform family, friends, and coworkers of the ways to use an electric heater more safely.