September 30th is National PrepareAthon! Day
Posted on September 28th, 2015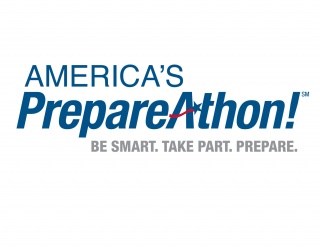 Join millions in the national movement to get ready!
Wednesday, September 30th is National PrepareAthon! Day. There are several ways, big and small, that you can take action this week :
Download an emergency preparedness mobile app. There are apps that help organize important documents, offer First Aid & CPR instructions, and apps that crowdsource information about fuel locations and power outages. Read more

Sign up for emergency alerts. Use your cell phone's text messaging capability to receive text message updates from FEMA (standard message and data rates apply). Here are basic commands to get started: To signup to receive monthly preparedness tips: text PREPARE to 43362 (4FEMA). To unsubscribe (at any time): text STOP to 43362 (4FEMA).
Assemble or update supplies for your home emergency kit. Get a checklist here.
Establish your "go bag" for yourself and/or your pet: http://www.readyshelby.org/first-steps/pack-a-go-bag/
Drill or practice an emergency response in your home, school or workplace. Find tips, guides, and playbooks on how to plan an event by visiting www.ready.gov/prepare.
Participate in a class, training or discussion. The Mid-South Chapter of the American Red Cross offers First Aid and CPR classes: http://www.redcross.org/ux/take-a-class
Plan with neighbors.
Take steps to document and insure property.
Safeguard documents. For example, copies of identification cards, proof of health insurance, and photos of family members and pets for identification purposes.
However you choose to participate, don't forget to share! Add your preparedness activity at ready.gov/prepare. Use the hashtag #PrepareAthon and #NatlPrep to share your pictures on Facebook and Twitter.