Resolve to be Ready in 2015
Posted on December 31st, 2014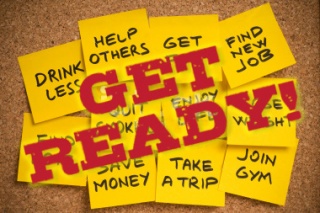 It's that time of year again when it seems like everyone you know takes to Facebook to proclaim, "New Year, new me!" THIS will be the year I get my health back on track. THIS year, I'm determined to manage my finances better. THIS will be the year I take control of my career, run a 5K, volunteer more, start that garden, and so forth and so on! And more power to you on your efforts.
As you set your intentions for 2015, make family preparedness one of them. Now, while maybe you're feeling refreshed from a holiday break, is an ideal time to think through how you'll take care of yourself and your family in the event of a natural disaster or emergency.
If it feels overwhelming, start by thinking about what types of disasters occur in your region. Is flash flooding a threat? Earthquakes? Harsh winters with sheets of ice and days without power? Then, try tackling one task at a time, beginning with a family communication plan. Your communication plan will help you determine where you'll meet if you have to evacuate your home, identify an emergency contact person outside of your household, establish a list of emergency phone numbers, assemble important personal records, and more. Click here for a downloadable family communication plan template.
See if you can commit to completing one preparedness task each month. Take advantage of the resources at readyshelby.org, including lists for packing a go-bag and stocking your at-home emergency kit. Resolve to be ready in 2015.