National Preparedness Month 2015 Kickoff
Posted on September 1st, 2015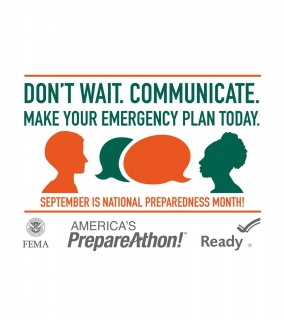 NPM 2015
It's time to take action! Make a plan for your community, your family, and your pets to stay safe during an emergency and recover afterward. Tackle a new preparedness project each week leading up to America's PrepareATHON on September 30th. Some examples:
Secure important documents (copies of IDs, insurance records, mortgage paperwork) in a fire-safe and water-safe container.
Establish your Go Bag.
Make arrangements with a family member or friend outside of Shelby County should you have to evacuate the area.
Each activity, no matter how small it seems, is a major step toward being ready!
Then on September 30th, take it to the streets for America's PrepareATHON. Pull your neighbors or your coworkers together and execute a drill or another group preparedness activity.
And don't forget to tell us what you're up to! Visit Ready Shelby on Facebook or Twitter and share your picture with #NatlPrep!