It Only Takes A Spark — Fire Pit and Campfire Safety
Posted on October 2nd, 2013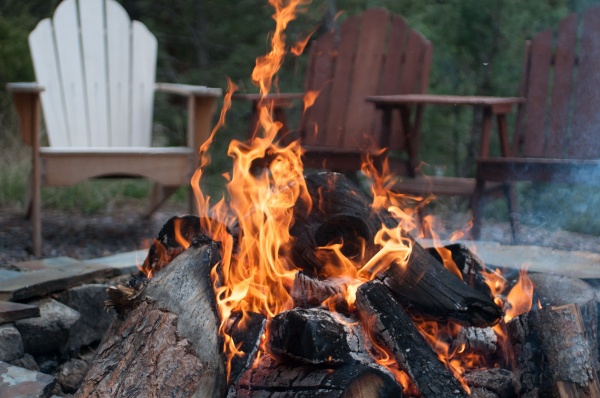 Autumn is finally here, and people all over the Mid-South are taking to the time-honored tradition of gathering around a campfire. Cool nights, ghost stories, and maybe even a S'more or two always make for great fall memories; but, as with any activity involving extreme heat or fire, one must always take precautions.
There are definitely several good reasons that October is National Fire Prevention Month. As people all over strike up campfires in the woods, bonfires on the bank or firepit fires in their backyards, here are a few fire safety tips one should always keep in mind.
Avoid building a fire in very dry weather and never build a fire when it is banned in the area. Wildfires are called "wild" for a reason, and could spread through dry trees, grass and shrubbery with a single spark. Get more tips on building your firepit from Smokey the Bear at this link. (http://www.smokeybear.com/dig-pit.asp)
Watch for low-hanging tree branches, large mounds of brush and nearby tents/camping equipment. Make sure your fire has room to grow without reaching them.
Clear the area of all flammable objects and materials, like lighter fluid, alcoholic beverages, gas cans or aerosol cans.
Be sure your fire is extinguished before you leave it. Cover the embers with water or dirt and stir with a shovel or stick to make sure all embers have burned out.
And here's a bonus campfire tip. Be careful with the S'mores! It might sound silly, but this tasty treat can be quite dangerous. Watch where you place hot coat hangers or skewers that have been in the fire; and be very careful shaking a roasting marshmallow on the end of a skewer to cool it off or blow out a flame. Injuries can result from the hot marshmallow being projected from the skewer onto someone's skin. Liquid-hot marshmallow is impossible to immediately wipe off, and it can cause quite a burn.
If you choose to have your fire inside in a fireplace this fall or winter, follow these tips for a safe in-home fire:
Make sure you have plenty smoke alarms in your home (at least one for each bedroom and each floor's main area), and keep them supplied with fresh batteries. If your smoke alarms are more than 10 years old, they should be replaced.
Have your chimney cleaned before fire season starts. The fire byproduct, creosote, which lines your chimney after a fire, can catch fire if it becomes too thick.
Use a metal mesh curtain or fireplace screen to prevent popping embers from projecting onto the floor.
Make sure your hearth is clear of flammable materials or decorations.
So, before you strike a match this fall, make sure you are prepared to do so in a safe way. With a few precautions and a little planning, you'll be safely cozying up to a crackling, warm fire in no time.